Viewing posts categorised under: SNA Event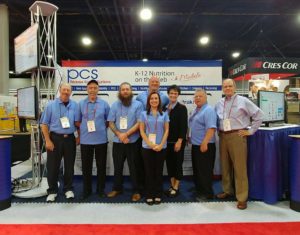 18
Jul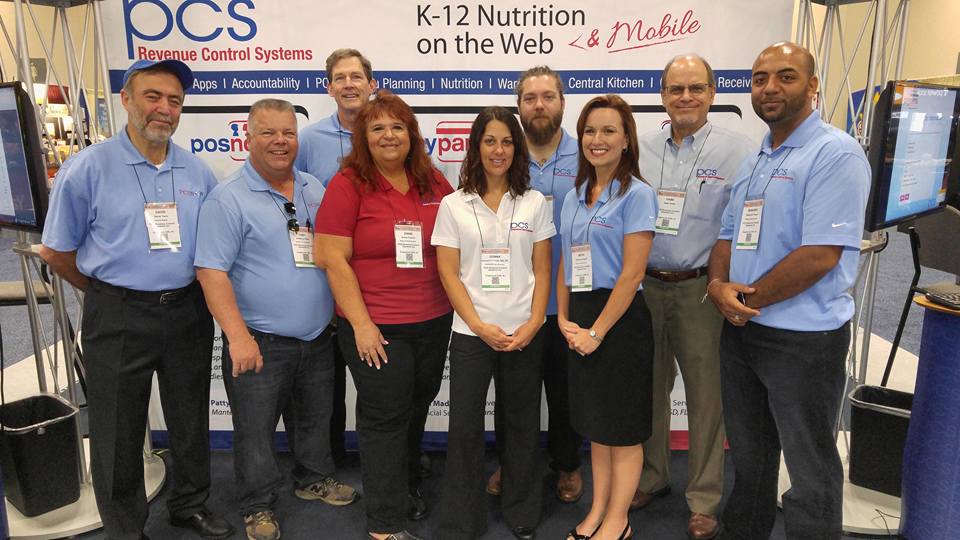 14
Jul
As usual the PCS Booth at ANC was a lively place to be. Seeing old friends and making new ones is always a good time!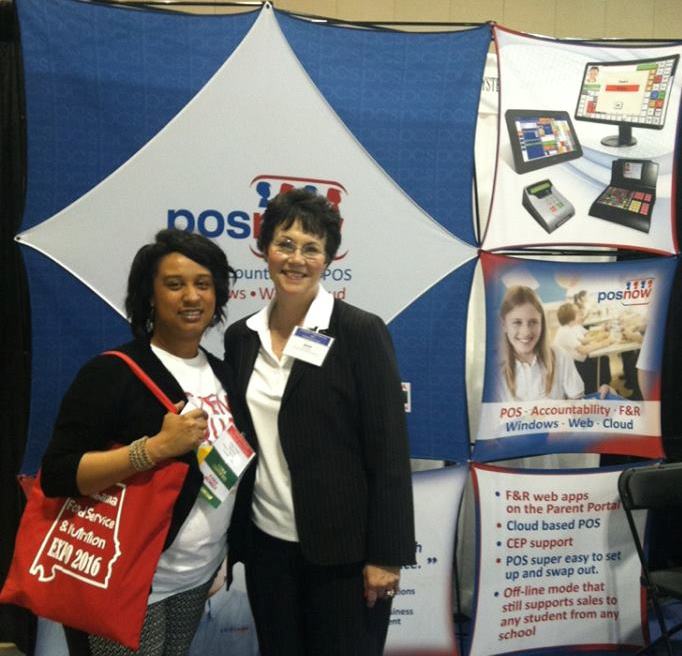 13
Jun
DJ Segraves and Ava Wojcik were proud to attend the 38th Annual Alabama Food Service & Nutrition Expo. Breakfast in the classroom was one of the hottest topics at the conference, held at the Montgomery Convention Center. Luckily, PCS has many different ways to assist districts in getting breakfast to more students in a short amount of time.
Our Lightning touch screens provides portability without sacrificing a large screen for carts or grab-and-go stations. Our vending machines allow students to get food quickly in remote locations. We have recently added features to our roster mode that allows teachers to ring up breakfast in their classrooms.
Ava, our TrakNOW Implementation Specialist, took the time to speak to both customers and prospects about the TrakNOW (Back Office) program. TrakNOW handles Inventory, Production, Nutritional Analysis, Menu Planning, Warehouse, Central Kitchen, as well as Ordering and Receiving. If you need to tighten your budget and get food cost under control PCS can help make it happen!
Several customers had questions about how PCS is handling the new iNOW interface requirements and we let them know both interim and year end solutions are being provided at no charge.
06
Jun
Bhaumik Thaker had a great time at the "Agents of Change" (Spy Themed) DSNA 2016 Spring Conference & Food Show in Wilmington, Delaware. It was a great opportunity for him to network and get valuable feedback from customers.
Bhaumik was proud to present our NEW GeckoPad, an ultra-portable solution for increasing participation at alternative serving locations. In addition to being durable and easy to operate, it can be used anywhere, from the hallway, to the classroom to the bus! The GeckoPad is also equipped with a convenient handle allowing the operator to comfortably carry and hold it in their arm while making meal transactions.
To learn more about the GeckoPad or any other hardware, please contact your regional sales Director.
30
May
Becki Rogers, Regional Sales Director and Ava Wojcik, TrakNOW Implementation Specialist enjoyed spending quality time with our Georgia friends at the 61st Annual GSNA Conference in beautiful Savannah, GA. As a member of the Industry Advisory Board as well as Golf Tournament Planning Committee, Becki had been planning for this event since last year! It all came together beautifully.
The Golf Tournament was just revived this year for GSNA after taking a few years off due to lack of participation. The Golf Tournament Planning Committee exceeded every goal that was set and had over 50 participants, 19 hole sponsors, more volunteers than they could manage and most importantly, raised over $4,500 for the GSNA Foundation. These funds will cover scholarships for our GSNA members and their families.
The exhibit was very well attended and Becki and Ava enjoyed meeting new people that we hope to add to the PCS family in the near future as well as getting to spend time with our valued, long time customers. Paula Deen, celebrity chef even spoke at one of our general sessions.
We wrapped up the conference with an evening of Low Country Elegance, including a beautiful dinner and the passing of the gavel from the outgoing GSNA Executive Board members to the new members. As always, we appreciated the opportunity to support the association and treasure the relationships with both school and industry members.
24
Mar
PCS Regional Sales Director, Becki Rogers and Operations Director, Tony Diers attended SNA of South Carolina Industry Conference, enjoying a few days in beautiful Charleston. This is a wonderful event that was recently revived, providing industry members and district decision makers quality time to network and share ideas.
Tony and Becki provided a presentation on using technology for alternative serving locations. At PCS we understand the challenges you face in trying to keep your participation numbers up. Kids can't always get to the cafeteria or have enough time to eat with shortened lunch periods, so you have to be able serve when and where they are.
Throughout the country, PCS provides portable touch screens and tablets for grab-n'-go carts in the hallways, food trucks and vending machines. New from PCS, teachers can now record breakfast meals from their own classroom computer. This is a simple and cost effective way to provide technology to account for breakfast meals in the classroom without having to print paper rosters, checking boxes or data entry.
Talk to your account representative about how to provide FASTrak student breakfast rosters to your teachers on their PC.
21
Mar
Gabe Aiello, Director of Product and Business Development attended SNIC this year with Regional Sales Director, David Dittlinger. This conference is a great place to get the drift of where things are headed in School Nutrition and take the pulse of industry participants at the same time. Updates regarding regulation and guidance changes, the politics behind it and input from operators is always fascinating and it informs our thinking and planning for the following year.
This year's conference provided some of the most stimulating presentations by gifted speakers, like futurist, Christian Crews, who provided the audience with the opportunity to envision the future through game playing designed just for school nutrition, conducted at each table. Our takeaway was that PCS should think seriously of applying robotics to School Nutrition, as many of our budding futurists saw cafeterias populated with amazing robots that will cleverly provide solutions to problems we only now have an inkling of.
Generational research expert and millennial, Jason Dorsey opened our eyes to the importance of an understanding of generational differences and how it can be applied to every area of our operations, from decision makers, mostly Baby Boomers and some Gen-X to new employees and Parents of students now in school, mostly Millennials, and so on. For example, we learned that Gen-X'ers love email and that Millennials communicate mostly by text and will only read the subject line of emails, and hate to be interrupted by a phone call. This explains a lot!
The PCS marketing team and department heads collaborated to see the best way to communicate more effectively with our customers based on these findings. We discovered that almost 2/3 of our website traffic is coming from mobile devices. Having anticipated this, we already have a mobile friendly website and are currently developing mobile applications for many of our products.
10
Mar
Becki Rogers was proud to represent PCS at the recent TASN Industry Seminar held in beautiful Rockwall, TX on January 27-29, 2016.
We enjoy supporting our state SNAs and appreciate the opportunities provided for us to network and get valuable feedback from our customers and friends. These seminars help us to stay up to date on the ever-changing state rules and regulations. At PCS we strive to be more than just your software vendor. We want to be your partner in success, so never hesitate to contact us about getting the most out of your PCS school nutrition technology.
16
Dec
This year's CSNA was the next best thing to Comic-Con. David Dittlinger and Judi Dugan liked Star Trek theme, but did not appear in costume 🙁 PCS was honored to be featured by our friends at Ontario Montclair in their awesome technology presentation. Their presentation was really entertaining, worthy of Hollywood, in addition to being informative!
06
Nov
The rains came down and our friends in South Carolina experienced historic flooding, as reported nationwide in all media outlets. But, the floods didn't stop the SNA of SC 62nd Annual Conference.
We were proud to see the SC communities coming together to help each other out. Several of our own customers opened up their cafeterias and served meals to families who were displaced by the floods. At the conference in beautiful Myrtle Beach this year donations were made to go towards helping with the recovery. We are certain they will be put to good use and help to restore what was lost within the community. Despite the devastation, the weather was beautiful for the conference week.
We were proud once again to be a sponsor and participate to in the Dr. Vivian B. Pilant Scholarship Golf Tournament. Our own Becki Rogers was on the conference planning committee this year. Seeing all that goes into planning these events and following them through to fruition is a real learning opportunity with a great reward. Becki is also serving on the SNA of SC Industry Advisory Committee for the 2015-2016 year. PCS values our relationships with our customers and welcomes opportunities to serve you within your local SNAs. Together there is nothing we can't accomplish.